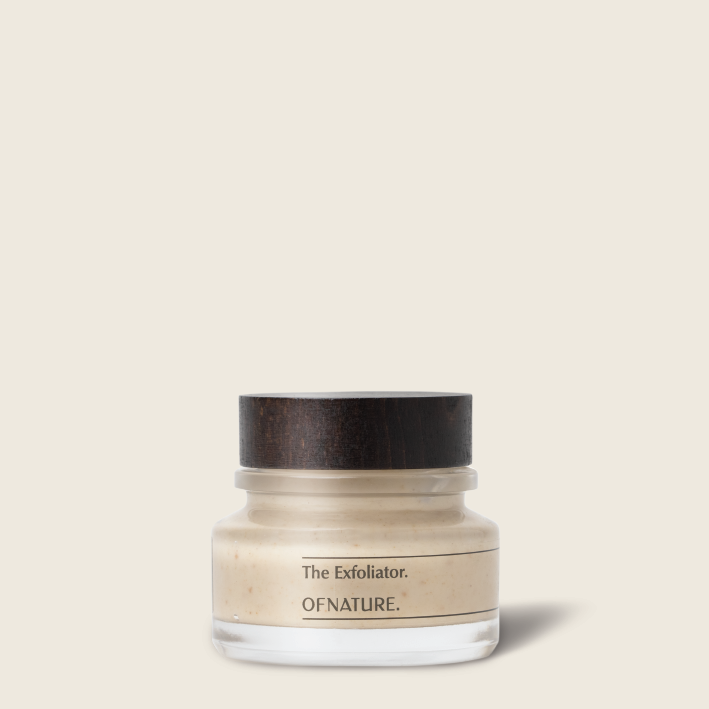 Deep cleansing exfoliator to remove impurities, dirt and unwanted oil build-up. Alpha-bisabolol and chamazulene visibly reduce irritation and calm the skin.
The Details.
The Formulation.
Deep cleansing exfoliation delivered via upcycled organic rosehip shell powder and apricot oil. Filled to the brim with nourishing antioxidants, fatty acids, and vitamins it cleanses, protects and replenishes the skin.
Regular use of this deep cleansing exfoliator can help to improve the overall health and appearance of your skin, leaving it radiant, smooth, and rejuvenated.
Packed with ingredients that replenish and lock in moisture it's an ideal choice for dry skin, while also being formulated with non-comedogenic ingredients and oil-regulating ingredients it's perfect for those with oily and acne-prone skin. With zero alcohol nor any of the other problematic compounds that may irritate and inflame skin it's perfect for those with sensitive skin.
All our products are certified organic and 100% natural by the Soil Association (COSMOS) in addition to being PETA Certified Cruelty-Free and Vegan.
Independent Certifications.
Soil Association (COSMOS) Organic
Soil Association (COSMOS) 100% Natural
PETA Approved Vegan
PETA Approved Cruelty-Free
Our Formulation Charter.
Research-backed organic and vegan formulations. All our products are made using:
Low or non-comedogenic ingredients that don't block the skin's pores
Zero alcohol, essential for sensitive skin
Balanced pH similar to our own to prevent irritation and promote skin barrier function
Organic extracts and essential oils acclaimed for their healing benefits, always blended below the IFRA Standards to prevent irritation. Essential oils are not used in unscented products
All our products are Certified Organic and 100% Natural by Soil Association (COSMOS) as well as PETA Certified Vegan & Cruelty-Free. We formulate and handmake all our products in rural Wales.
Suggested use.
Use twice per week after cleansing. With dry hands, gently massage the exfoliator on to your dry face. Either leave the oils penetrate your skin and then wash off with warm water, or wash off straight away. Replace lid and keep water away from the jar.
Ingredients.
Organic Actives
Organic Rosehip Powder: gentle exfoliant that rejuvenates and revitalises your skin. Our Rosehip Powder is an upcycled by-product of Rosehip Seed Oil; helping to reduce unnecessary waste.
Organic Apricot Oil: rich in phytosterols and antioxidants it improves the skin barrier function and elasticity. It holds collagen production boosting properties to increase skin cell regeneration.
Organic Chamomile Extract: excellent soothing and anti-inflammatory properties; making it particularly ideal for sensitive and acne-prone skin.
Ingredients
Organic Grapeseed Oil, Organic Apricot Oil, Soapbark Extract, Soapwort Root Extract, Aqua, Organic Rosehip Powder, Organic Chamomile CO2 Extract, Vitamin E, Glyceryl Caprylate, Citric Acid, Sodium Levulinate, Sodium Anisate
Certified COSMOS Organic Ingredient
INCI
Vitis Vinifera Seed Oil, Prunus Armeniaca Kernel Oil, Glycerin, Aqua, Rosa Canina Seed Powder, Tocopherol, Simmondsia Chinensis Seed Oil, Chamomilia Recutita Flower Extract, Quillaja Saponaria Wood Extract, Saponaria Officinalis Leaf/Root Extract, Sodium Levulinate, Sodium Anisate, Glycerol Caprylate, Citric Acid.
Planet Earth.
Packaging.
Our glass bottles and FSC® certified closures are easily seperated for proper recycling. All delivery packaging is made from at least 76% recycled content and is entirely compostable.
5% from every purchase to Planet Earth.
We contribute 5% of your total order value to [Project One]. These proceeds go directly to Amazon rainforest conservation programmes to help protect and restore Planet Earth.
40% of profit to Planet Earth.
We contribute 40% of all profits to [Project One]. This is calculated at the end of the year at the organisational level so is not included on your personal impact statement.
Refills.
Refills are coming in Autumn 2023. We're working to introduce an innovative circular-economy solution that benefits Planet Earth while not compromising on efficacy or safety.
Delivery, Returns & FAQs
Fast delivery
We try to dispatch all orders same day via a 24 Hour Tracked service; meaning your formulations should arrive within two working days.
100 Day Guarantee
Need to return an item? No problem. We've got a 100 Day Guarantee. Our delivery boxes are also equipped with a resealable strip for easy returns.
Get in touch
Have a product specific question? Ask it below in our Q&A section. Alternatively contact us at hello@ofnature.co.uk
Build a gift set.
Create a bespoke skincare ritual for your friends and family, beautifully presented in a luxury gift box.
Build now.